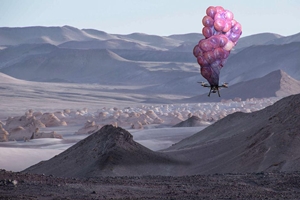 Agi Haines wins Bio Art + Design Award 2015
Agi Haines has been selected as one of three winners of the Bio Art + Design Award 2015 in Den Haag (Netherlands). The project "Drones with Desires" will commence in June in collaboration with Dr. Marcel de Jeu and Dr. Jos van der Geest. This work will focus on questioning the boundaries of the body through integrated and invasive technologies, by breathing life into mechanical devices. In its hypothetical nature this is related to her project at CogNovo titled "Ideas exchange: Understanding the Human Object" in which she takes a speculative design approach to preparing humankind for its changing environment.
The Bio Art + Design Award is an encouragement for young artists and designers to explore the boundaries of art and science in collaboration with life scientists. The BAD Award is an initiative of NWO and ZonMw, Eindhoven University of Technology, Waag Society, MU artspace Eindhoven, and BioArt Laboratories in Eindhoven. The BAD Award is in its 5th year of supporting collaborative practices between artists and scientists.